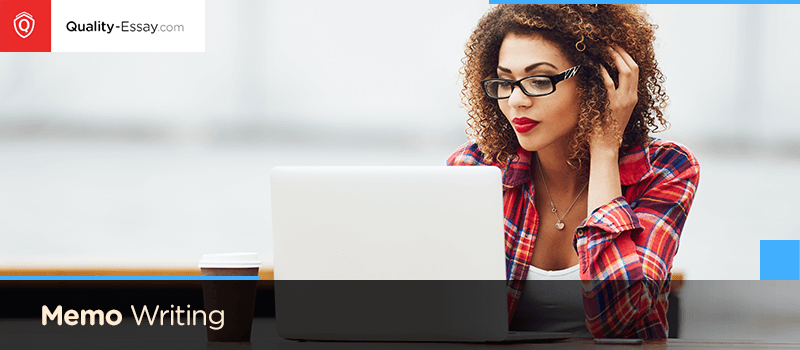 Do you know what is a memo, also called a memorandum? It is an official mean of business communication that is used for sending short and meaningful messages within the company or companies. In comparison with a letter, a memorandum is more concise, clear, and direct, though less formal. Nowadays, memos are widely substituted by e-mails and other means of correspondence. Nevertheless, they are still used in a business setting. Therefore, the students pursuing their degrees in Business should know how to write a memo. After all, memo writing skills are necessary for mastering the essentials of business communication.
Memo Writing Format: Common Tips
Before you start writing a memo, you need to define its type – persuasive or informative. Your choice will depend on the purpose of your memorandum. An informative memo aims to familiarize the audience with a specific piece of information whereas the persuasive one focuses on persuading the audience to take some action.
As for the content of a memo, it should be concise and straightforward because in a business world no one has the time to read long and meaningless messages.
The common length of the memorandum should be approximately 1-1.5 pages.
The memo should include the author's name, the recipients, and the subject.
When writing your subject, you need to be maximally clear informing the readers what is your memo is about. The information that will be presented in the main body of your memo should be also very detailed and coherent. Basically, in this part, you need to contextualize your message providing as many important details as possible. Try to predict all the questions that may appear in the heads of your recipients and answer them. Basically, your memo will include the purpose, the important details, and a plan of actions. Noteworthy, all these parts are provided separately.

Fill in the order form to place your order

Use one of payment options to pay for order

Log in to see the order progress

Contact your writer to discuss the paper's details

Receive your paper on time
The purpose of a memo is the reason why you write this document. Written in only one-two sentences, it should clearly define your goals. The important details part includes the background information that should help the reader understand the importance of your document. Finally, the action statement is a part where the author informs the reader what is required from them.
Also, a memo may include a supplement line that will indicate who has completed it and an enclosure line indicating how many pages are there in a memo.
Please, note that you may find some memo writing samples on the web and check how this document should look like.
Expert Assistance with Memo Writing
If you have to create a good memo for your business class but you are not sure how to write a business memo, you can always count on professional help from the experts working at Quality-Essay.com. After you provide our team with all the details of your memo assignment, you can be certain that the professional memo writing specialist will tackle your order. We complete all our papers strictly in accordance with the guidelines and recommendations of our customers and such a strategy allows us to maintain the reputation of the most trustworthy provider of premium quality writing services. When placing the order, keep in mind that 1 page double-spaced will contain 300 words per page whereas one single-spaced page will have 600 words.
Free extras
FREE plagiarism check
FREE revision option
FREE title page
FREE biblioraphy
FREE outline (on request)
FREE formatting
We guarantee
Expert research and writing
24/7 LIVE support
Fully referenced papers
Any citation style
Up-to-date soures only
PhD and MBA, BA writers
Confidentiality
No hidden charges
We never resell works
Hire an Experienced Memo Writer and Forget About Poor Performance!
By trusting in our professionalism and deciding to cooperate with our team, you will be provided with first-class assistance. In particular, your memo writer will take care of the following aspects:
• Target audience. When working on a memo, it is critically important to know who will be reading it. If it is your friend, the tone of your memo may be less formal. However, if you are writing a business memo to your boss, you need to follow the high business communication standards. Also, if your recipient has the background information about your subject, there is no need to include it in your memo. However, if you are writing your message to a person, who knows nothing about your subject, make sure to provide all the necessary details. We assure you that every writer in our team knows how to write a memo that would please the most demanding audience;
• Purpose. The writer will clearly define the purpose of your memo as it will greatly influence its content and structure. No matter if you need to write an announcement, invitation, or just provide your recipient with a piece of important information, one of our seasoned experts will do it for you;
• Style. When you decide to buy business memo at Quality-Essay.com, you will receive a piece that will meet the highest quality standards. The writer will follow the memo writing style precisely so that you could get the expected grade for your memo assignment. In particular, they will choose the right tone and voice of your memo, as well as use the right strategy to help you reach your goals;
• Format. According to the common formatting rules, a memo should have one-two pages double-spaced with the left text indentation. In its nature, a memo consists of two parts, a heading, and the main body.
Rely on the Best Memo Writing Service and We will not Let You Down!
When you buy business memo writing help at our professional web-based writing platform, you will enjoy our cooperation because we will provide you with numerous benefits mentioned below:
• Total confidentiality of your private information;
• Fair pricing system;
• Free revisions within 48 hours;
• A team of experienced and creative writers, who know perfectly how to write a business memo;
• Timely delivery;
• 24/7 customer support;
• Plagiarism-free content.
In other words, when you buy business memo at Quality-Essay.com, you will get a perfectly written, structured, and formatted piece that will please your professor even if they are pretty demanding. We never hire unprofessional writers with poor memo writing skills because we understand that the image and reputation of our company depend on our staff. So, if you have some problems with writing a memo, we will not let you down!


Why Our Company Is the Best Choice for You?
For more than ten years, or writing platform has been providing the students with the premium quality writing assistance. If you are concerned about your academic performance and do not want to compromise it by submitting a low-quality memo, we are always at your disposal. We assure you that our cooperation will be a truly great experience in your academic career because it will not only bring you good grades but will also provide you with a wonderful opportunity to improve your memo writing skills.
Once you place the order in the system, you can easily monitor its progress. In particular, you can chat with our qualified support managers, who will provide you with the answers to all your questions. Alternatively, you can message your writer directly in the system and find out whether they are on the right track. Even if you are not completely satisfied with the quality of the order received, you are free to get a revision that will cost you absolutely nothing. The writer will study your revision comments and follow them carefully.
No matter if you have an outline and want us to write a memo based on it or you just want us to create your memo from scratch, just make an order now. We assure you that writing a business memo is not a challenge for our well-educated specialists!
In addition to the exceptional quality of services we provide, we guarantee that you will be impressed by our affordable price and quality relationship. Affordable prices allow us to cooperate with many students on a timely basis. Therefore, we provide both our first-time customers and our returning clients with generous discounts that help them save their money.
Get
15% off
your
1st order
Use quality15 discount code
Every memo we deliver to our clients is absolutely free from plagiarism because we scan all our papers through the sophisticated plagiarism detection software. We do understand that you can be strictly punished in your college or university for unoriginal content, so we never send the papers to the customers before they are scanned on plagiarism.
In other words, choosing our company to buy business memo writing assistance, you do not have to worry about your confidentiality, missed deadlines, plagiarism, low-quality memo writing samples, and other problems. When you place the order at Quality-Essay.com, we will do or best to surround you with the delicate care and support so that you could relax and forget about your academic problems. Writing a business memo is not a problem if you have a good friend to rely on!
Testimonials
Tina,California
"I was a bit skeptical going in, but after receiving my paper I'm absolutely convinced that you guys are the real deal. Thanks for helping me out with my assignment!"
Mathew,Kentucky
"I ordered a final paper for a history class about relations between North and South Korea. It was a HUGE thing. I ended up with a 190/200! The writer did an amazing job. The sources were good, the paper was really organized well. My professor wrote a bunch of really positive comments. The writer seemed like a real expert!"
Steve,Alabama
"I've heard a lot of weird things about writing services, like, they totally rip students off. But that's never been my experience. I needed somebody to write my research paper in 3 days and they got it done! I would never consider any other company and I will use them again."
Aaron, York
''I have a really great working relationship with my writer. She knows exactly what I need every time I ask for her help.''
Michael, Mexico
''There are lots of things that I like about this company. First, the writer that I hired is really talented. Secondly, the customer support department is really outstanding. I've made some urgent calls before and they are always very responsive. Thanks and I look forward to our continued collaboration!''